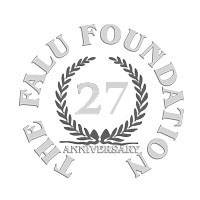 Dr. Falú presenting lectures in Puerto Rico, celebrating the month of the abolition of enslavery.
Dra. Falú presentando conferencias en Puerto Rico, celebrando el mes de la abolición de la esclavitud.
Dr. Falú in Yabucoa PR with women entrepreneurs. She expressed the need to teach our children and families about our history and Heritage.

Dra. Falú en Yabucoa PR con mujeres empresariales. Ella expresó la necesidad de enseñar a nuestros niños y familias sobre nuestra historia y herencia de Africa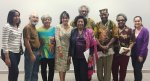 Dra. Falú, Humacao College, University of PR, presenting lecture as part of the series of the Museum of Black Man and women, directed by Atty. Hector Bermudez and co-sponsored by the Departments of History and Literature of the campus.
Dra. Falú, en el colegio Recinto de Humacao, universidad de PR, presentando conferencia como parte de la serie del Museo del Hombre y la Mujer Negros, dirigido por el Lcdo. Hector Bermudez y co/auspiciado por los Departamentos de Historia y de Literatura del recinto.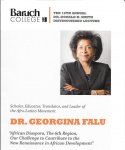 Dr. Georgina Falu Distinguished Lecture Scholar Educator Translator Leader Afro-Latinos Theme: 6th Region own Challenger to contribute our Economic Development.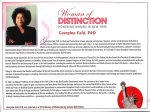 Dr. Georgina Falu Honored as a woman of Distinction by the New York State Senator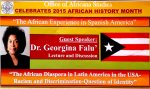 Dr. Georgina Falu, Kean University Guest Spoke for African History Month February 2015, Lecture on: The African Diaspora in Latin America and USA - Question of Identity.
THE FALU FOUNDATION'S 'LET'S CREATE OUR OWN
JOBS
THROUGH "NON PROFITS-BUSINESSES START-UPS" !
IN EIGHTEEN (18) MONTHS,
THIRTY TWO (32)CORPORATIONS ORGANIZED TO
CREATE JOBS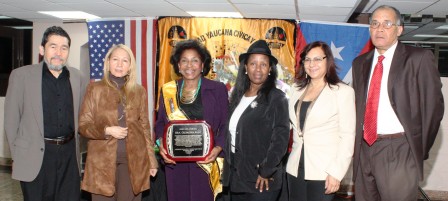 Dr. Falú with four entrepreneurs, now Presidents of their own corporations- from left to right:
Jose Velazquez-president of GENIOTUS Inc., Gladys Montolio-President LACUJEInc., Dr. Georgina Falú-President Falu Foundation /Director JOB CREATION Project, Antia Arruez-Rojas-President of JOTURO Inc, Maricela Reyes- President of PLUMA POETICA DEL ARTE Inc., Miguel Perdomo-Board member.
DO YOU WANT TO START YOUR OWN NON-PROFIT or BUSINESS CORPORATION? CALL DR. FALU @ 646 246 8302 or email:drfalu@falufoundationny.org
Anibal Garcia Award 2014 Honorees from Hermandad Yaucana civil and cultural of NYC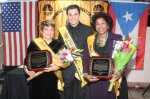 Ms. Lydia Navarro, Ely Sepulvera President, Dr. Georgina Falu-
March 15, 2014
ECONOMIC DEVELOPMENT for AFRICANS ON THE CONTINENT AND THROUGHOUT THE AFRICAN DIASPORA
AFRO DESCENDANTS COMMUNITIES THROUGHOUT THE WORD: Special focus AFRO-DESCENDANTS/AFRO-LATINOS IN UNITED STATES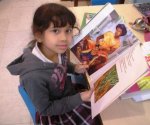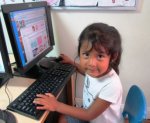 CHILDREN & YOUTH LEARN COMPUTERS TUTORING DAILY
The Economic Development-JOB CREATION PART II:
The Falú Foundation is a community based 501(c)(3) non-profit corporation operating to service low income and other needy communities.
Since 1988, the mission has been focused on three different areas:
Technology/Digital Divide; Economic Development & Jobs
Children: Day care, Pre-K, After school, Summer Computers &Technology Heritage Research, Publications & Dissemination.
The Falu Foundation has implemented Silicon Barrio, a comprehensive Technology Telecommunication initiative with the main objective of preparing community members for jobs using computer applications and other information Technology
The Silicon Barrio strategy includes:
Free Technology.
Economic Development and Advocacy
Early Childhood such as Pre Kindergarten
Licensed Child Day Care.
Compu-thinkers Summer Computer Camp
After School with Computers
Heritage Research, Publications &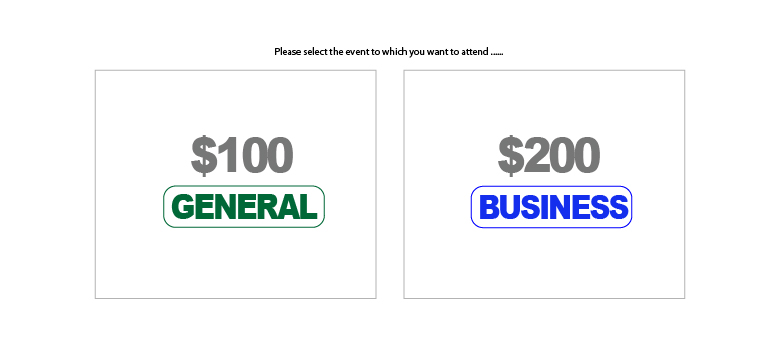 BUSINESS
GENERAL