Dr Falu assist with the community group to development their own to proposals for grants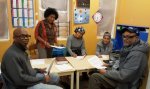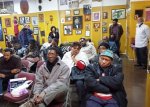 Dr. Falú presenting lectures in Puerto Rico, celebrating the month of the abolition of enslavery.
Dra. Falú presentando conferencias en Puerto Rico, celebrando el mes de la abolición de la esclavitud.
Dr. Falú in Yabucoa PR with women entrepreneurs. She expressed the need to teach our children and families about our history and Heritage.

Dra. Falú en Yabucoa PR con mujeres empresariales. Ella expresó la necesidad de enseñar a nuestros niños y familias sobre nuestra historia y herencia de Africa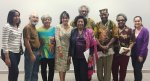 Dra. Falú, Humacao College, University of PR, presenting lecture as part of the series of the Museum of Black Man and women, directed by Atty. Hector Bermudez and co-sponsored by the Departments of History and Literature of the campus.
Dra. Falú, en el colegio Recinto de Humacao, universidad de PR, presentando conferencia como parte de la serie del Museo del Hombre y la Mujer Negros, dirigido por el Lcdo. Hector Bermudez y co/auspiciado por los Departamentos de Historia y de Literatura del recinto.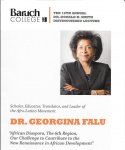 Dr. Georgina Falu Distinguished Lecture Scholar Educator Translator Leader Afro-Latinos Theme: 6th Region own Challenger to contribute our Economic Development.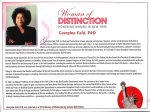 Dr. Georgina Falu Honored as a woman of Distinction by the New York State Senator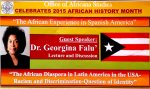 Dr. Georgina Falu, Kean University Guest Spoke for African History Month February 2015, Lecture on: The African Diaspora in Latin America and USA - Question of Identity.
THE FALU FOUNDATION'S 'LET'S CREATE OUR OWN
JOBS
THROUGH "NON PROFITS-BUSINESSES START-UPS" !
THIRTY TWO (32)CORPORATIONS ORGANIZED TO
CREATE JOBS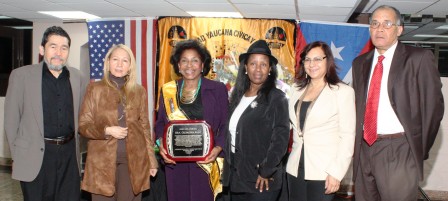 Dr. Falú with four entrepreneurs, now Presidents of their own corporations- from left to right:
Jose Velazquez-president of GENIOTUS Inc., Gladys Montolio-President LACUJEInc., Dr. Georgina Falú-President Falu Foundation /Director JOB CREATION Project, Antia Arruez-Rojas-President of JOTURO Inc, Maricela Reyes- President of PLUMA POETICA DEL ARTE Inc., Miguel Perdomo-Board member.
DO YOU WANT TO START YOUR OWN NON-PROFIT or BUSINESS CORPORATION? CALL DR. FALU @ 646 246 8302 or email:drfalu@falufoundationny.org
Anibal Garcia Award 2014 Honorees from Hermandad Yaucana civil and cultural of NYC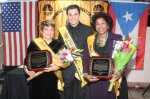 Ms. Lydia Navarro, Ely Sepulvera President, Dr. Georgina Falu-
March 15, 2014
ECONOMIC DEVELOPMENT for AFRICANS ON THE CONTINENT AND THROUGHOUT THE AFRICAN DIASPORA
AFRO DESCENDANTS COMMUNITIES THROUGHOUT THE WORD: Special focus AFRO-DESCENDANTS/AFRO-LATINOS IN UNITED STATES
Dear Friends:
We are truly proud to announce the 25th anniversary of the Falu Foundation. We will mark the occasion throughout the year 2013, with events that are representative of our Mission. We continue to passionately engage in educational, cultural, and economic development activities as concerns the low-income families/children and the African Diaspora. The children are our future; we operate Day Care with Pre-K, After School with Pick up at schools, and Summer Computer Camp, all programs with computers for children daily, for economically disadvantaged children. Computers for Families-Economic Development; and African Descendants Heritage Research, Publications and Speaking in International Conferences.
We were both gratified, and proud to have been selected on January 20th by the Obama Administration as one of the organizations in the City to organize a National Day of Service. Folks came to us in El Barrio from throughout the City to garden and further beautify our Children facility. It was exciting.
But we dearly need your help too. The first Anniversary event will be the Gala--Conference with Keynote: Ambassador from Venezuela to Angola-Jesus Chucho García, to take place on February 27th at 6 pm, at CCNY-CUNY, with a voluntary $40 contribution. (See announcement attached.) We are inviting you to attend. Would you also accept to be a member of the "COMMISSION FOR THE FALU FOUNDATION 25TH ANNIVERSARY GALA CONFERENCE" by pledging
 to secure (5) $40.00 donations for our Anniversary celebrations? A pledge form is enclosed. We are a 501 (C) 3 Non-Profit corporation.
We will telephone you in follow up.
We hope you will support us, and participate in our programs. We appreciate your consideration.
Very truly yours
Dr. Georgina Falú
Founder & President/CEO
Sitting from l-r: Dr. Jinmi Adisa, Director, CIDO; President, Hon. Mayor Robert Bowser of East Orange; Deputy Chairperson, His Excellency Ambassador Erastus Mwencha; Hon. Mayor Mary Ann Wardlow of Borough of Lawnside, NJ; Ms. Vanessa Williams, Executive Director, NCBM; Ambassador Tete Antonio, Permanent Observer of the AU to the UN. Standing from l-r: Mrs Leah Kassera, Special Assistant to the Deputy Chairperson of the AUC; Dr. Chika Onyeani, Publisher and Editor-in-Chief of the African Sun Times; Ms. Shantel Gilbert, Special Assistant to the Executive Director; Hon. Mayor Wayne Smith of Irvington, NJ; Hon. Mayor Michael Blunt of Chesilhurst, NJ; Hon. Mayor Antonio Blue of the Town of Dobbins Heights, NC; Dr Fareed Arthur, Advisor to the Deputy Chairperson on Strategic Matters; Hon. Mayor Hilliard Hampton of the City of Inkster, MI; Mr. Wuyi Omitoogun (Expert, Diaspora Relations, CIDO); Dr. Georgina Fall of AUDTT; Mr. Omowale Clay of AUDTT; Dr. Djibril Diallo, Senior Advisor to the Executive Director, and Director, Global Outreach and Parliamentary Relations Office (MER) UNAIDS New York, and Adviser to NCBM; Ms. Miriam Omala Gauvin, Adviser, AU Observer Mission to the UN; Ms. Nadia Roguiai, (Expert, ECOSOC, CIDO); Mr. Ahmed el-Madani, Head, Diaspora Affairs, CIDO; and Mr. Abdoulaye Thiam, Assistant to the Publisher, African Sun Times
Dr. Georgina Falú represented the African Union Diaspora Task Team as a Delegate to the Global African Diaspora Summit in South Africa during the days of May 25th-Africa Day- and the 26th. During this Summit, President of different African countries poke and a Declaration with Program of Action and Linkage Project were approved, - See Link.
http://www.starafrica.com/en/news/detail-news/view/declaration-of-the-global-african-diaspo-234760.html
MEDICINE WOMEN PRODUCTIONS, LLC
& FALU FOUNDATION INC. INVITE YOU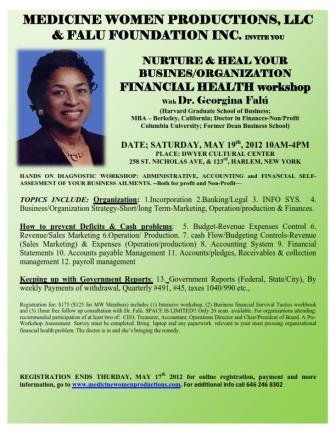 NURTURE & HEAL YOUR BUSSINES/ORGANIZATION FINANCIAL HEALTH workshop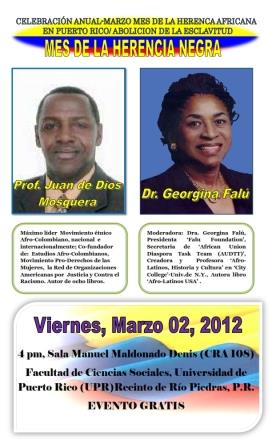 Falu Foundation Present Black Heritage Month in Puerto Rico with Juan de Dios Mosquera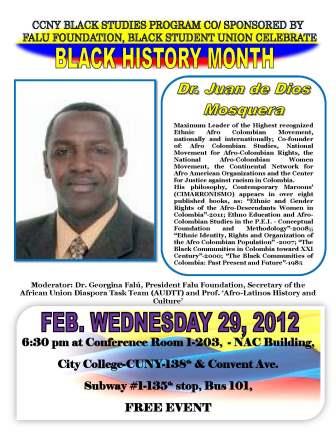 CCNY Black Studies Program & Falu Foundation Present Black History Month with Juan de Dios Mosquera, February 29, 2012.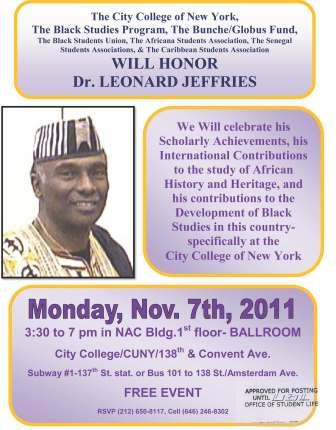 CCNY Black Studies Program & Falu Foundation Black History Month with Dr. Leonard Jeffries, November 7, 2011.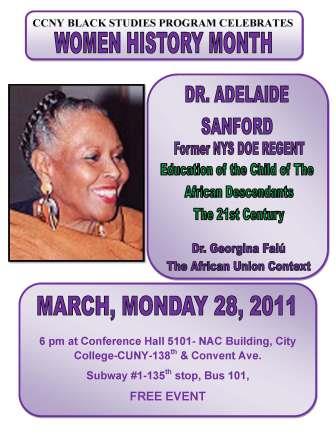 CCNY Black Studies Program & Falu Foundation Celebrated Women History Month with Adelaida Sanford March 28, 2011.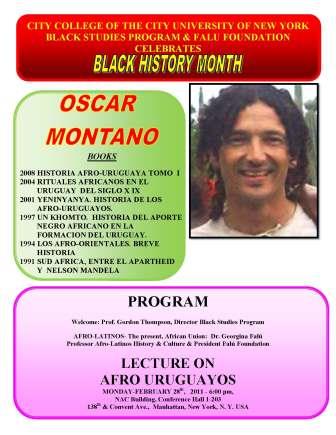 CCNY Black Studies Program & Falu Foundation Black History Months with Oscar Montano February 28.2011.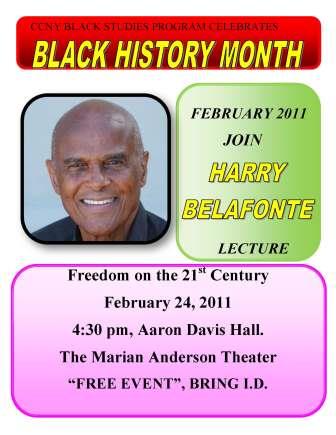 CCNY Black Studies Program & Falu Foundation Celebrates Black History Months with Harry Belafonte. February 24, 2011

SUMMER CAMP
SALSA PLUS DANCE
LEGADO newspaper
Help to make history - Place your Ad in this first edition of this bi-lingual, bi-monthly publication. It will circulate in New York City, Puerto Rico, by subscription in other countries/black communities and by Internet. The regular circulation comes out every first week of every two months.
LEGADO advertise in this newspaper
Membership in Falu Foundation
Afro-Latinos Forum November 15, 2005- at the Schomburg

The Falu Foundation will be celebrating its 17 year Anniversary with e Afro-Latinos Forum at the Schomburg Center for Research in Black Culture on November 15, 2005. Speakers include Dr. Georgina Falu, Mr. Diogenes Rodriguez, Mr. Howard Dodson and Dr. James DeJongh.
Dr. Falus Letter
Sponsorhip Opportunities

May 2005 - Falu Offices move to 333 East 118 Street, New York, NY 10035
The Falu Foundation has moved its offices to the following address:
The Falu Foundation, 333 East 118 Street, New York, NY 10035.

July 2005 - Falu Graduates the Next Generations

Youth Graduates prepare for work, while Pre-kinder graduates prepare for play.
The Falu Foundation graduated 57 youth from our Free Youth Technology Program, and 32 children from our pre-kindergarten and day care programs.
Youth students learned Microsoft Office Programs such as Word, Excel, Access and PowerPoint as well as soft skills such as interviewing, job hunting, and professional development. They also had a Business Mentor present topics every week on job hunting and office work. more...

June 2005 - Falu Children Visit the Bronx Zoo. Thank you Enterprise!
Lions, Tigers and Bears Oh My! Falu children spent a Day at the Bronx Zoo this week. The children took a break from their ABCs and learning computers, to touch fuzzy goats, to hear the squaks of rare birds and gnarl their teeth at our local tigers. We thank Enterprise Rent-A-Car and their Diversity Chair, Mr. Hector Silva for sponsoring this outing for our children. More...


May 2005 - Who Says Girls Aren't Into Computers?
Certainly not 5 year old Brianna. She is on a computer almost every day. Her teachers say that she is one of the quickest learners in her class. This comes as no surprise to the Falu Foundation, because we have known for years that children who get on a computer early in life are more encouraged to learn, and learn faster. Read more...

April 2005 - Falu Programs are Open for Enrollment
Pre-Kindergarten Accepting Applications Now! Slots are filing up for the September 6, 2005 class. Your child should be 4 years old by Dec 2005. Summer Camp Starts July 1st! Ages 3 to 12 years old. Our children are taking trips, doing fun computer activities, water play, music, and more. What are your childern doing this summer? Falu still accepting applications for 14-22 year olds in our FREE Youth Technology Program. Apply Now! Whats better than learning Microsoft Office and Job Readiness Skills for free at our center?

April 2005 - Falu co-hosts 1st Annual Unity Luncheon for the Pan-African Strategic Policy Research and Action Group-USA (Pan-AFSTRAG-USA)
Pan-AFSTRAG's mission is to serve as a leading Pan-African action-oriented, policy, research advocacy and consultancy group devoted to the study of continental and global strategic and development issues. Pan-AFSTRAG provides an Afro-centric perspective to the search for solutions to the problems of human security, peace and stability, and the socio-economic conditions within the continent and the Diaspora. more...

March 2005 - Falu Foundation Visits Sunny Puerto Rico
The Falu Foundation travels to sunny Puerto Rico for the 4th Annniversary of Fundacion Falu on the island. The event honored 20 outstanding Puerto Ricans whom have contributed to the standing of Puerto Ricans on the island and abroad. Masters of Ceremonies were Malin Falu of HITN TV and Rafael Jose, television star. more...

Jan. 2005 - El Barrio Children Leap Ahead at the Falu Foundation!
Five year old Tatiana is leaping ahead of the rest of New York City's five year olds. That is because Tatiana is enrolled in the Falu Foundation's Silicon Barrio Children Program where she gets on a computer every day to learn her basics and more. more...

Jan. 2005 - Latinos in Information Sciences and Technology Association (LISTA) celebrate Three Kings Day and honor Dr Georgina Falu, On Lifetime Achievements and Prudential Financial and McGraw Communications
Dr. Georgina Falu, receives Latinos in Information Sciences and Technology Association (LISTA) 1st Lifetime Achievement Award at their 1st Three Kings Day Fiesta Navideña at the world famous Branch NY Restaurant. more...

Dec. 2004 - The Falú Foundation 16 Anniversary Gala honored leaders for socioeconomic change and technology and presents 7 computer scholarships for children. United States Congressman Charles Rangel keynotes Anniversary gala
Dr. Georgina Falú, Founder and president of the Falú Foundation, presented awards to outstanding leaders and innovators for their unique contributions to improving our communities. The 16th Annual Anniversary event more...

Sep. 2004 - Falú launches a new Silicon Barrio Early Intervention Service Center in upper Manhattan. Ronald McDonald House Charities of the New York tri-state area supports Falu's Silicon Barrio Children.
The Falú Foundation launches a new early intervention program for at-risk children of developmental disabilities. The new program, called Silicon Barrio Children, uses technology to test and prepare children for age-appropriate developmental abilities. The program helps identify children at risk of educational failure as early as 2 years old and recommends services to help the child learn before they fall behind in public or private schools. more...

Apr. 2004 - Falú Foundation Kicks off its "Unemployed and Their Children" Campaign. El barrio children clock more than 6000 hours on computers.
The Falú Foundation kicks off its 2004 "Unemployed and Their Children" Campaign to support mothers searching for jobs and their children through computer training for both mothers and their children. Mothers can take advantage of free job readiness prep, free GED training, and free computer training at the foundation. Their children and the youth are treated to computerized early childhood education and job training. more


Dec. 2003 - Report for the Falú Foundation
The Falú Foundation was very busy in 2003. Learn about our training programs, our free economic development work and our free and low cost children's learning and developmental work. We also had new Cultural Heritage Programs in 2003 including translating our latest book and our trip to Costa Rica! ...more

Dec. 2003 - Falú Foundation Santa Gives Toys to Children
Forty six children from the Falú Foundation early childhood programs were treated to a Holiday Christmas party with food and gifts. A jolly Santa delighted the 3 to 5 year olds from the pre-kindergarten and day care programs ...more


The non-profit Falú Foundation celebrated its 15 year Anniversary
The Falú Foundation, under its founder Dr. Georgina Falú, celebrated its 15-year Anniversary with a Benefit Gala and Auction on December 5, 2003, 6:00pm in the Faculty Hall of the NAC building at the City College of New York's campus in New York City. The event marked 15 years of using technology to mobilize the learning and productive power of low-income communities. more...